Gluten Free Ramen Noodles
Who doesn't love a nice warm bowl of ramen. I will admit that the packaged instant ramen noodles can be appealing. The "college student" meal, as some people call it. They are super cheap and really quick to make. However as convenient as they may be, instant noodles are not only processed but they are also packed with sodium and chemicals! And lets be honest, they kinda taste like cardboard. My hope is that when you get that craving for some warm ramen noodles, you will give my recipe a try!
Why gluten free you ask? Well, because I am finding that some of the members of my little family have some gluten sensitivities. Myself included. Gluten is a protein composite present in cereal, grains, wheat, barley, rye, oats and many other things. I am realizing that symptoms we may feel are "normal" such as cramping, bloating and even skin rashes. May actually be caused by the gluten in our diet. Now, I am not a doctor and I am also not an expert. This is merely the beginning of my gluten research, I am learning. And honestly the long progress it would take to remove all gluten from our diet kinda overwhelms me. I am not an extremist, but I am passionate about a healthy family. Don't get me wrong am I going to eat bread and carbs? Heck yeah, because just like Opera "I LOVE BREAD" But it is all about balance and being knowledgable of what is in our food and how it makes our bodies feel.
16oz Gluten Free Noodles (I got mine at Aldi)

1/2 C. Bragg Liquid Aminos (Soy Sauce alternative, tastes exactly the same)

8 C. Chicken Broth

6 Cloves Minced Garlic

1/2 Medium Onion Diced

1 Tbsp Oil ( Grape seed or olive oil)

1 tsp Ginger

1 tsp Sriracha (Add more if you like it spicy)

1 C. Julienned Carrots

1 C. Snap Peas

Add any additional veggies you may like (mushrooms, broccoli, peppers, even tofu)
Toppings
Cooked Chicken

Green Onion

Sesame Seeds

Spinach

8 min. Soft Boiled Egg
In a stock pot heat oil, saute onion and garlic

Add Chicken broth, liquid aminos, Ginger, Sriracha, Salt & Pepper

Bring to boil, reduce to simmer for 5 minutes.

In a second pot, bring water to boil for the gluten free noodles. I've found that it is best to prepare gluten free noodles separate from the broth. Boil noodles for 8-9 minutes. Stir continuously while water is boiling so the noodles do not get stuck together.

Drain noodles and add them to broth. It is ok if the noodles are still slightly firm. They will finish cooking in the broth.

Add carrots and snap peas

Bring to boil and simmer 5-7 minutes until veggies are tender

Add toppings and ENJOY!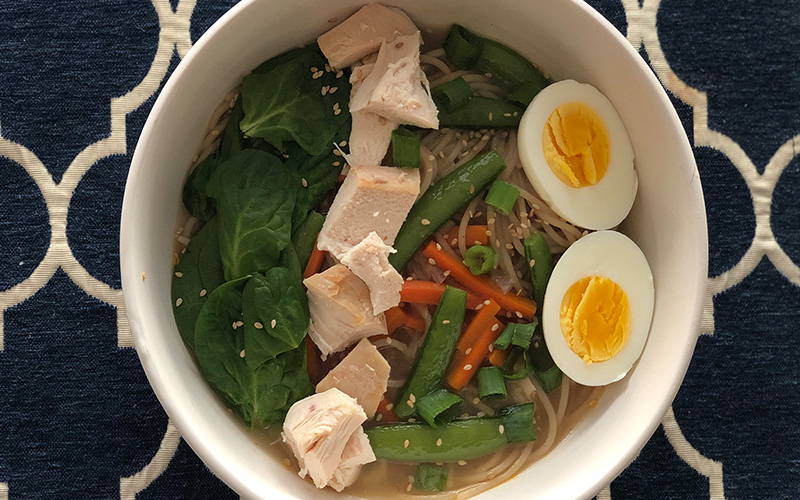 Give this recipe a try! And drop some comments below of how you made it your own! What veggie combos did you use, did you make it extra spicy? I'd love to know!
---
Shelby Slaughter
Full time wife & momma, part time missionary. Raising her three boys in Los Angeles, CA. Equipping moms to parent without fear, and helping woman feel altogether beautiful.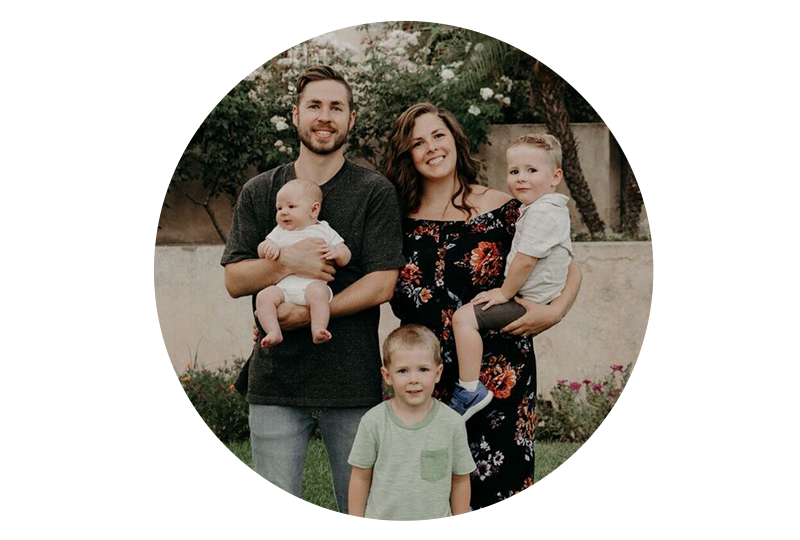 ---